Ankle boots for girls model CHLOE
ATTENTION!!! THE MEASUREMENT IS MADE FROM 0 CM, NOT FROM 1 CM!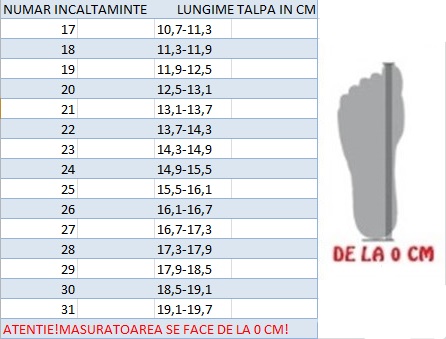 Design: Lightweight and comfortable, leather girls boots from the CHLOE line will be immediately loved by the little ones. The mix of lilac, purple and pink colors with glitter is especially designed for princesses who want to shine every moment.
Material: Natural leather is the material that provides some substantial benefits while walking. The insole cover is applied on a beret that has a thickness of 2 mm.
The lining: CHROME-FREE pays attention to the sensitivity of the skin of the little ones and successfully removes the risk of allergies.
Sole: Tight and flexible, specially made to avoid possible injuries.
The best variants of girls' shoes are those that opt ​​for high quality standards. Choose the right size and give your little girl unique experiences!